In acoustics, it is essential to know the characteristics of the materials used in an installation to evaluate "a priori" its performance.
Since the behavior "in situ" of an installation differs slightly from the theoretical calculations that are carried out in an analytical study, it is not enough to know the materials used but it is also essential to know their mode of action. in actual situation.
The Acústica Integral Acoustic Laboratory is the quality guarantee of our products and facilities. In it, all the necessary tests are carried out to experimentally know the acoustic characteristics of our products and the behavior in real situation of our assemblies and installations.
With advanced methods and cutting-edge technology, science and technique merge, resulting in a basic test bench to solve each and every one of the problems raised by our clients.
Acoustic engineering at your service
We put our acoustic engineering at your disposal to test any type of product or assembly that is of interest to you. Effective evaluation methods.
Own systematic verification and quantification of noise and vibration in the industrial and construction sectors. Modeling of noise propagation systems in the exterior and traditional methods of interior acoustics.
Instrumentation and adequate facilities
A complete class 1 noise and vibration measurement equipment, a transmission chamber for the theoretical and practical study of any type of material, allow us to always propose tested and optimized solutions.
Wide and rigorous systematic
Specialists in the design of isolation, absorption, propagation and structural transmission systems. Use of specific software in each area.
Calculation and simulation techniques developed for exclusive use.
The effectiveness and feasibility of the project are the basis of our work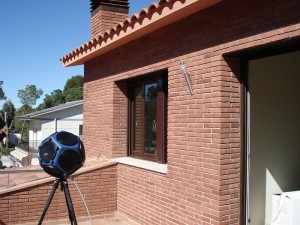 Building acoustics
- Advice on the application of the new CTE DB-HR.
- Determination of the soundproofing requirements of the walls of a building.
- Evaluation of compliance with current regulations.
- Monitoring and management of the execution of work.
- Advice to Architects and Engineering in new works or building projects.
- Advice in case of remodeling or reforms.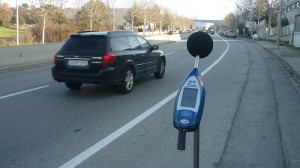 Urban noise
- Noise control in urban environments.
- Study of the layout of carts and railways.
- Traffic noise.
- Noise of machinery on roofs and terraces, etc.
- Environmental impact studies.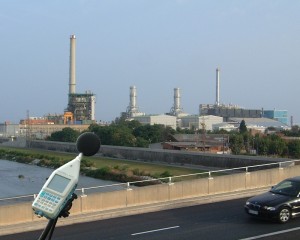 Industrial noise
- Industrial noise control.
- Evaluation of enclosures and acoustic protections.
- Absorbent treatments.
- Optimization of the cost of the solution.
- 3D noise maps.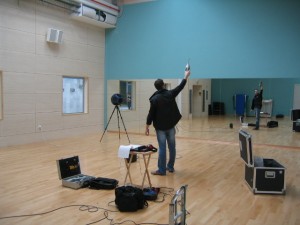 Room acoustics
- Advice to professionals, Architects, Engineering, etc.
- Design of venues for hearing.
- Concert halls, cinemas, theaters, multipurpose rooms, congress halls, recording studios, listening rooms, etc.