Acoustic treatment for rehearsal room
Absorbent acoustic treatment

The Unió Musical de Llíria, whose Honorary Perpetual Presidency is held by Her Majesty Queen Sofia, is a non-profit institution whose aim is to promote, foster and disseminate musical education and culture. For all these reasons, the Unió carries out all kinds of activities that promote musical, educational, cultural and artistic and recreational aspects.
It has a room dedicated to music teaching which is also used as an auditorium. Currently, the acoustic conditions of the venue do not meet the necessary standards to be able to carry out the activities for which it is designed.
In order to correct the existing acoustic defects, we proceed to carry out an acoustic study of the current conditions, in order to determine the necessary corrective measures that will allow us to achieve our objective.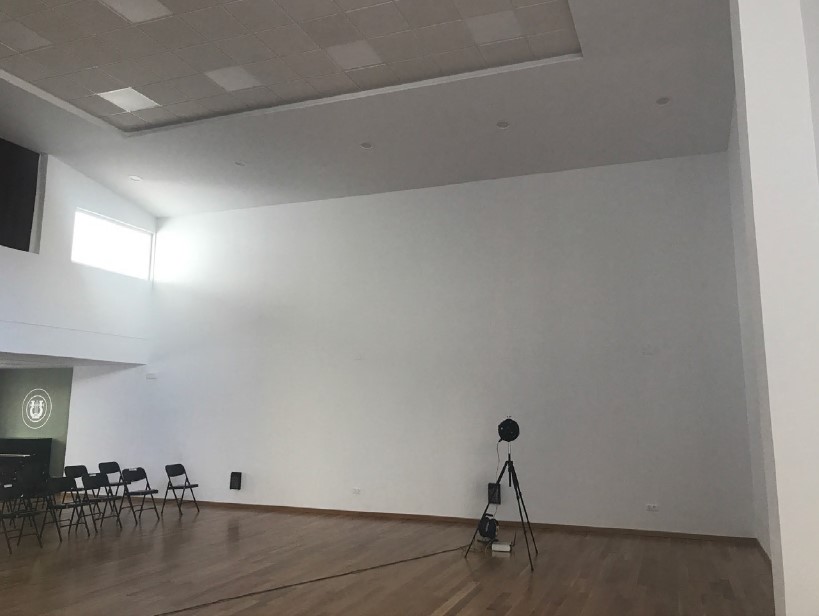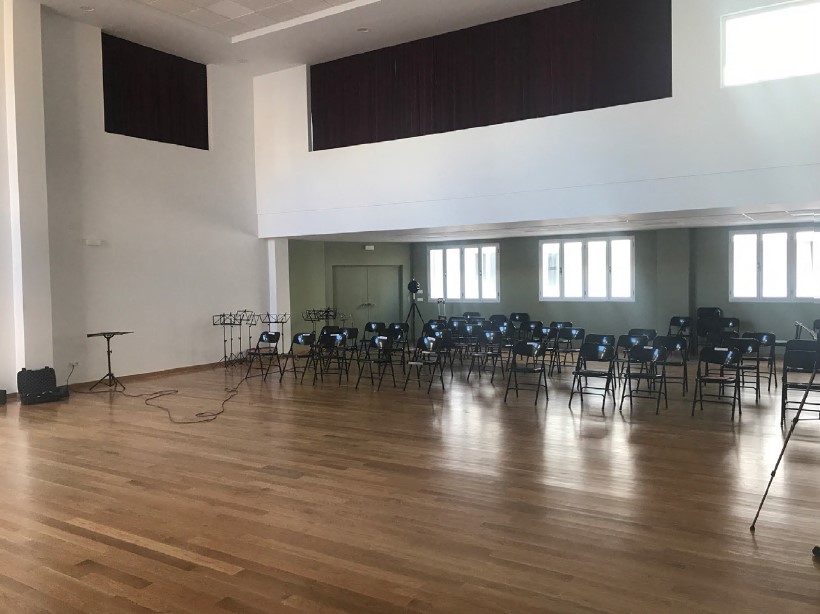 The materials used in the construction of the venue do not allow for adequate acoustic control. Varnished wooden floor, painted smooth walls, suspended ceiling with insufficient absorbent characteristics and several windows.
The room is used for individual and group rehearsals of different musical groups. The acoustics of the room must be adjusted to take these particularities into account.
We measured the reverberation time of the room to determine whether it is suitable for the type of activity that takes place during the tests.
As can be seen in the graph on the right, the average reverberation time is 1.9 seconds.
According to DIN 18041 "Room acoustic quality - requirements, recommendations and planning instructions", the recommended reverberation time is of the order of 0.8 seconds.
It will therefore be necessary to apply corrective measures to the enclosure to adjust its acoustic parameters.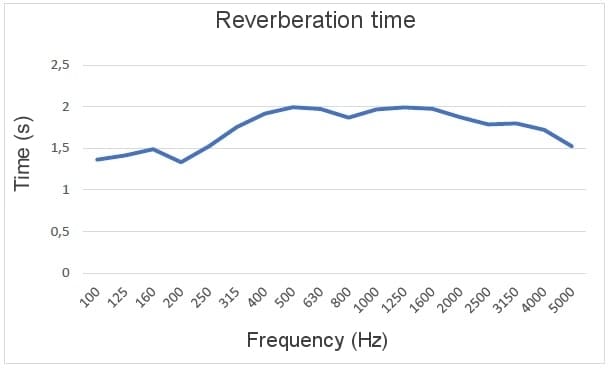 Thanks to the 3D calculation tools, we will be able to evaluate different options to determine the combination of materials that allows us to comply with the recommendations of the standard.
After multiple tests adjusting the arrangement of the different acoustic materials, we arrived at this consensus solution:
Replacement of the existing suspended ceiling with our Acustec-N19 acoustic absorption panel.
Installation of 4 Acustiart acoustic islands in the ceiling.
Mounting of 10 Acustiart acoustic panels on a wall.
Laying of 34m2 of Acustiforo-TP16 perforated wood with air chamber filled with Acustifiber acoustic absorbent material.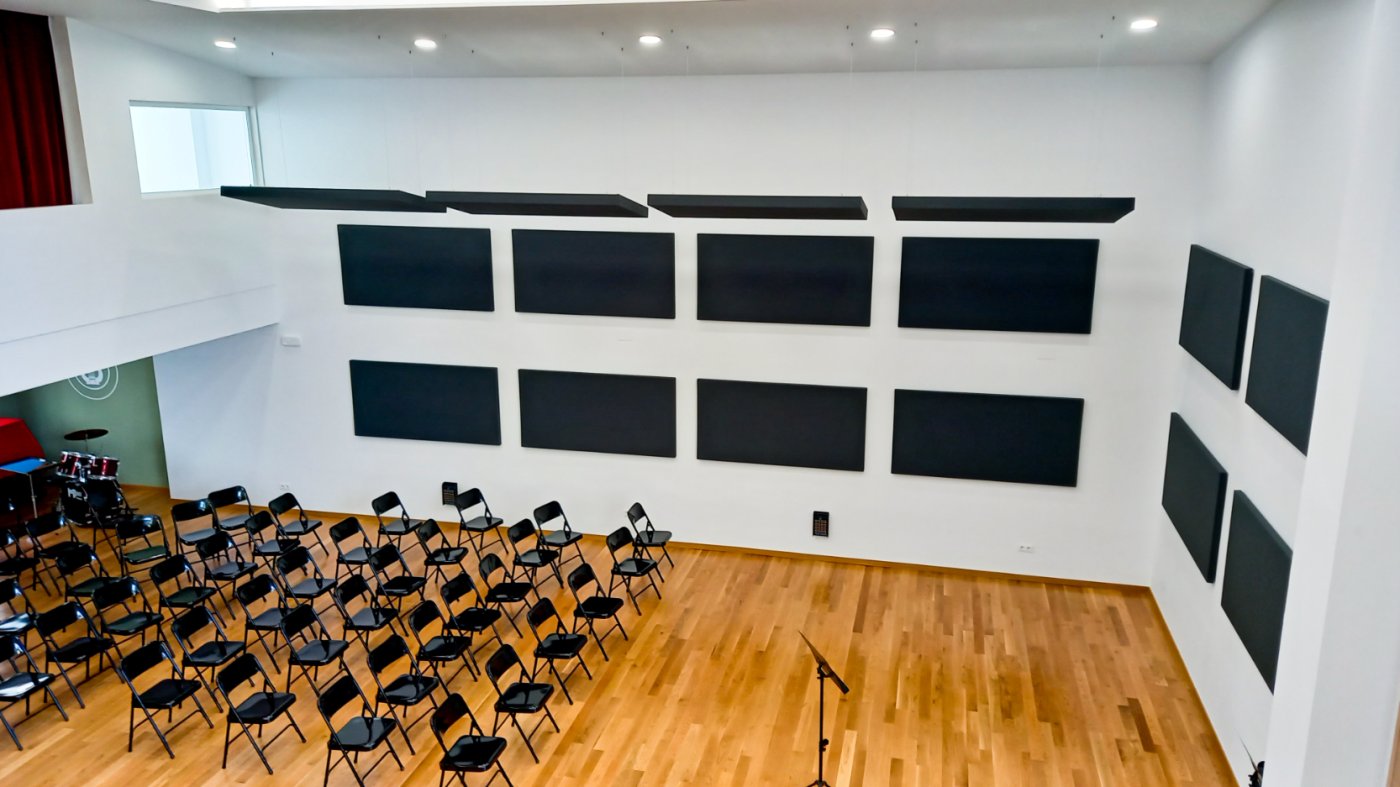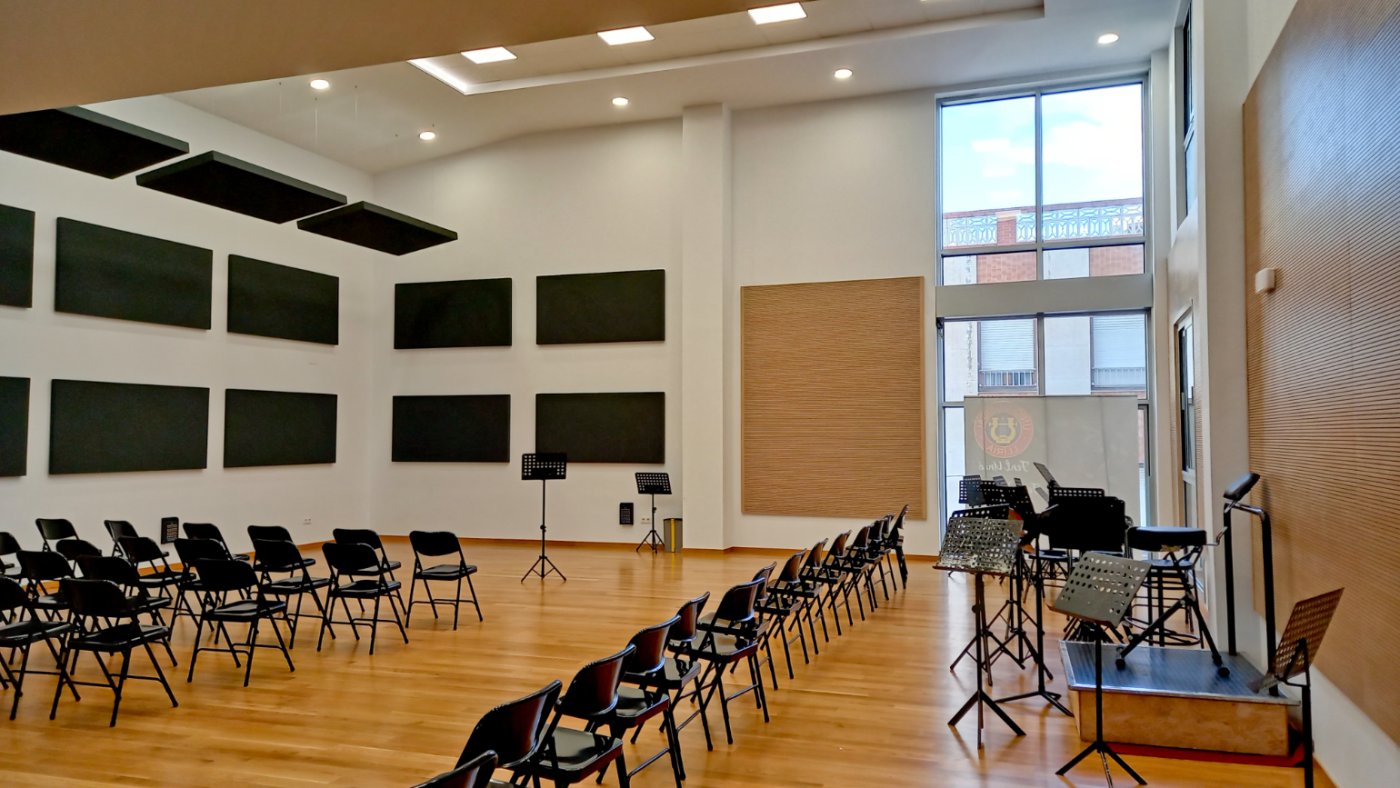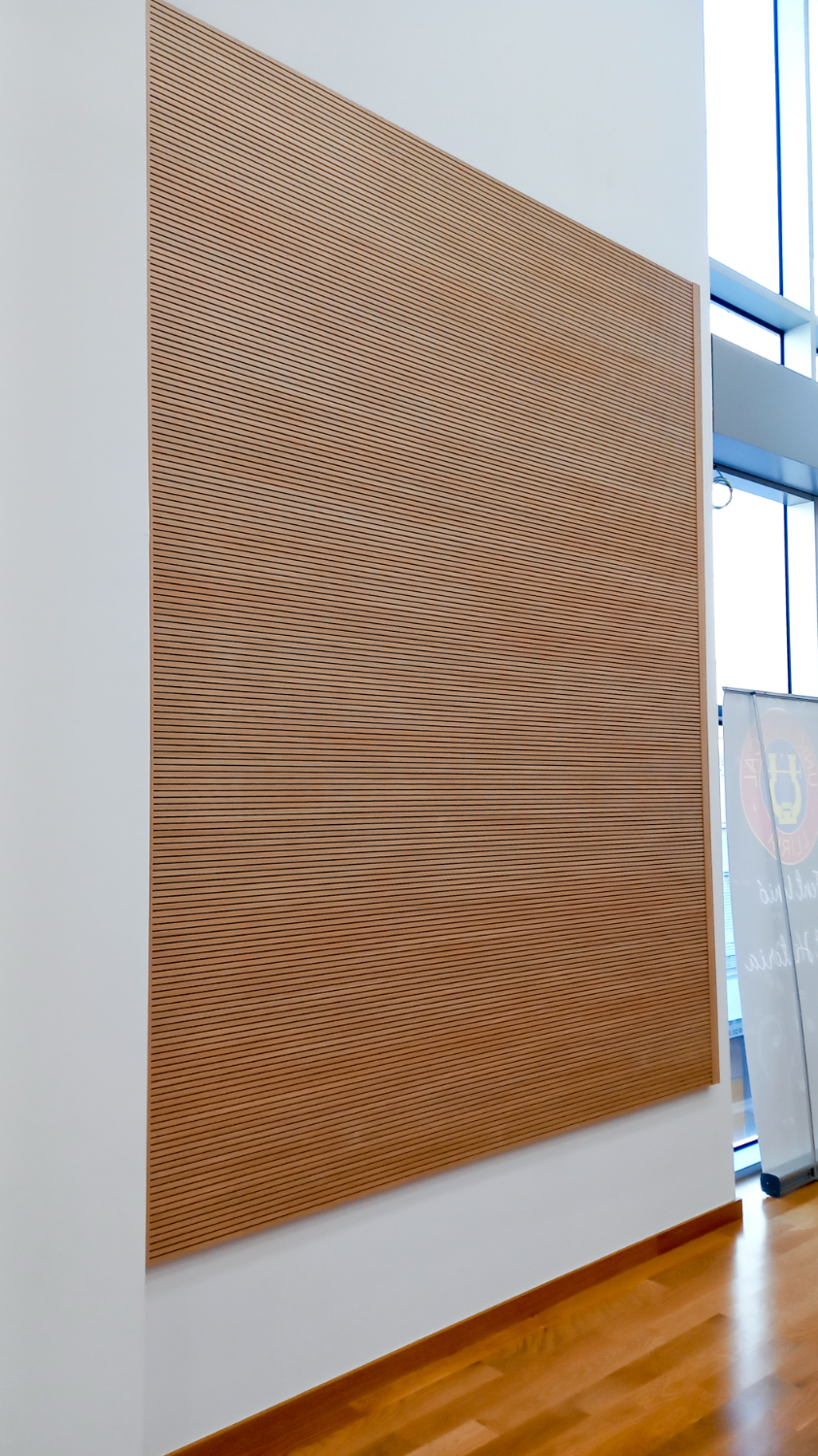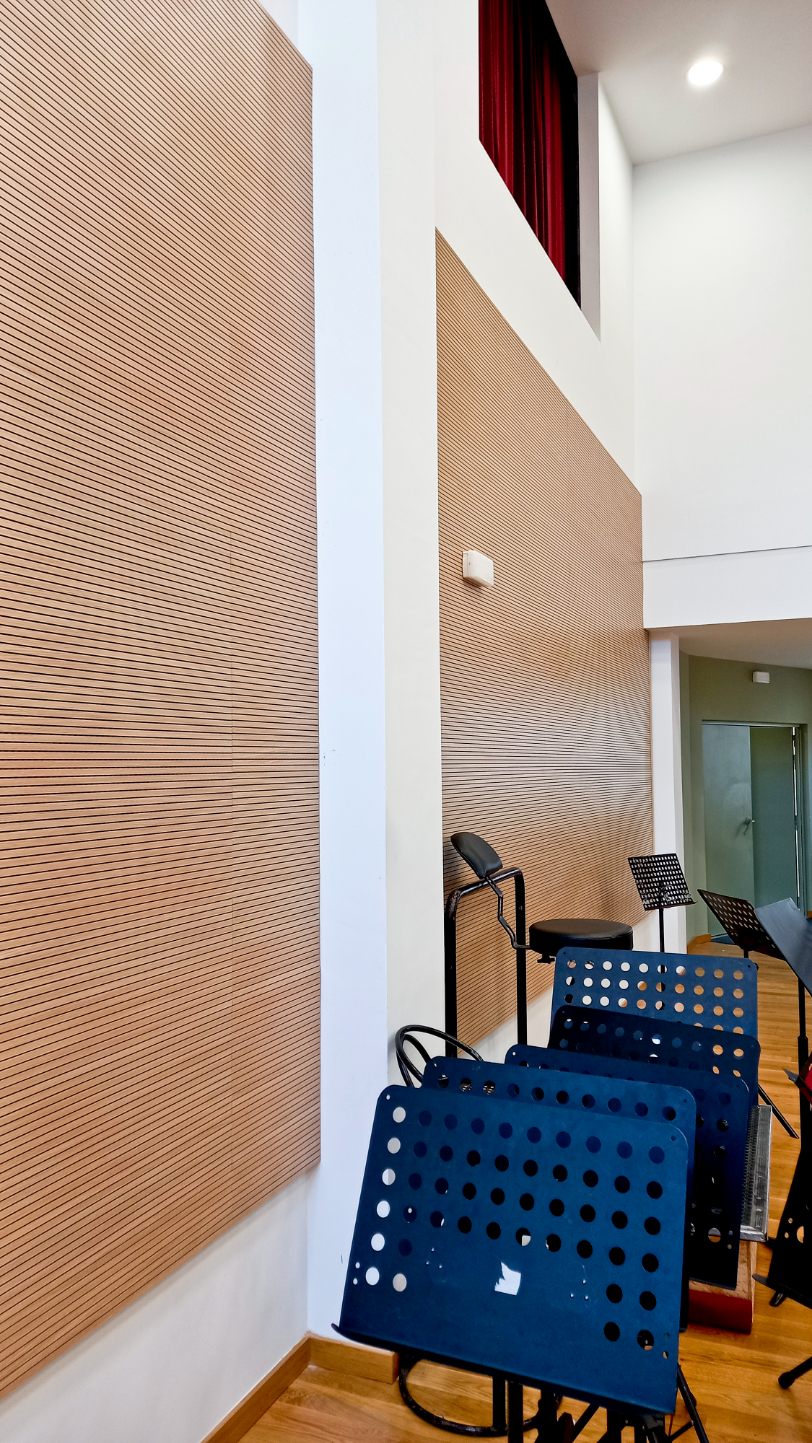 Absorbent panelling with Acustiforo-TP16
The result of the acoustic treatment has been excellent, meeting the criteria set by the standard.
If you need us to help you with the acoustic treatment of your rehearsal room, contact us.
TECHNICAL DATA SHEET
Project: Acoustic treatment in rehearsal room.
Ref: O02VA2200141.
Sector: Audiovisual media.