Understanding sound wave formation and oscillograms
An oscillogram is a record produced by an oscillograph or oscilloscope. The oscillogram is the easiest means for a graphic representation of the noise or sound, as it indicates the evolution of the sound pressure over time.
The oscillogram of a noise or sound represents the variation of the sound pressure versus time. Normally, this is the instantaneous pressure and not the effective pressure. In cases of perfectly stationary noises, the effective value of the pressure remains constant with time and therefore, a diagram representing the effective pressure is not very useful. When it comes to non-stationary noise, the effective pressure, as well as the instantaneous pressure, is a quantity that varies with time, therefore it requires a representation in the form of an oscillogram.
In the diagram below, we can see three wave forms for two periodic and non-stationary noise sounds. The instantaneous pressure versus time is also shown.

Naturally, a sound wave is formed of compressions and expansions of the air, which means that these compression-expansions are generated periodically or not.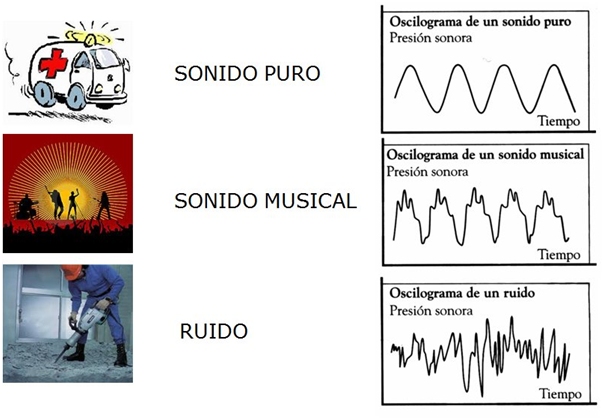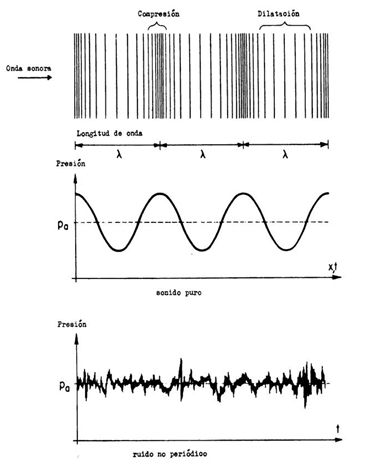 A periodic form is the sine and it corresponds to a pure sound or tone. Any other variations in the compression-expansion of the air will result in a non-periodical shape or a noise. Therefore, we have to remember that an oscillogram is the representation of a sound. More technically, it is a representation of the variation of the sound pressure versus time.
Thanks to the concept of the oscillogram, we can say that:
A sound wave = Compressions and expansions.
Pure sound = Periodic shape.
Aperiodic sound = Noise.